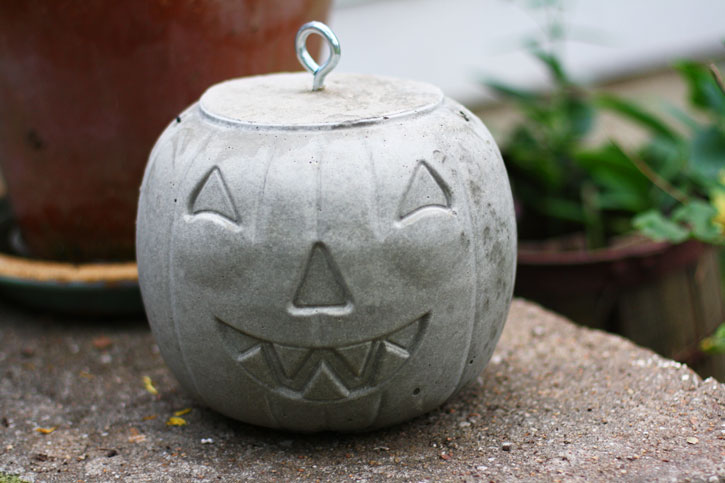 Who says pumpkins have to be orange? These do-it-yourself concrete jack-o-lanterns may be gray, but they're anything but dull. They're surprising, trendy and easier-to-make than you might expect. Adding one of these babies to your front porch is an unexpected way to decorate for Halloween.
Plastic pumpkin buckets—the ones trick-or-treaters use to gather their goodies—serve as the molds for these concrete jack-o-lanterns. If you don't have any extra plastic pumpkin buckets around, you can find them at most dollar stores or big box stores for around $1 each.
The only technical part to making these concrete jack-o-lanterns is mixing up the concrete. As a concrete newbie before completing this project, I can vouch that it's not that hard. You too can mix concrete!
Spook up your front porch in an unexpected way with these easy concrete jack-o-lanterns. Here's how.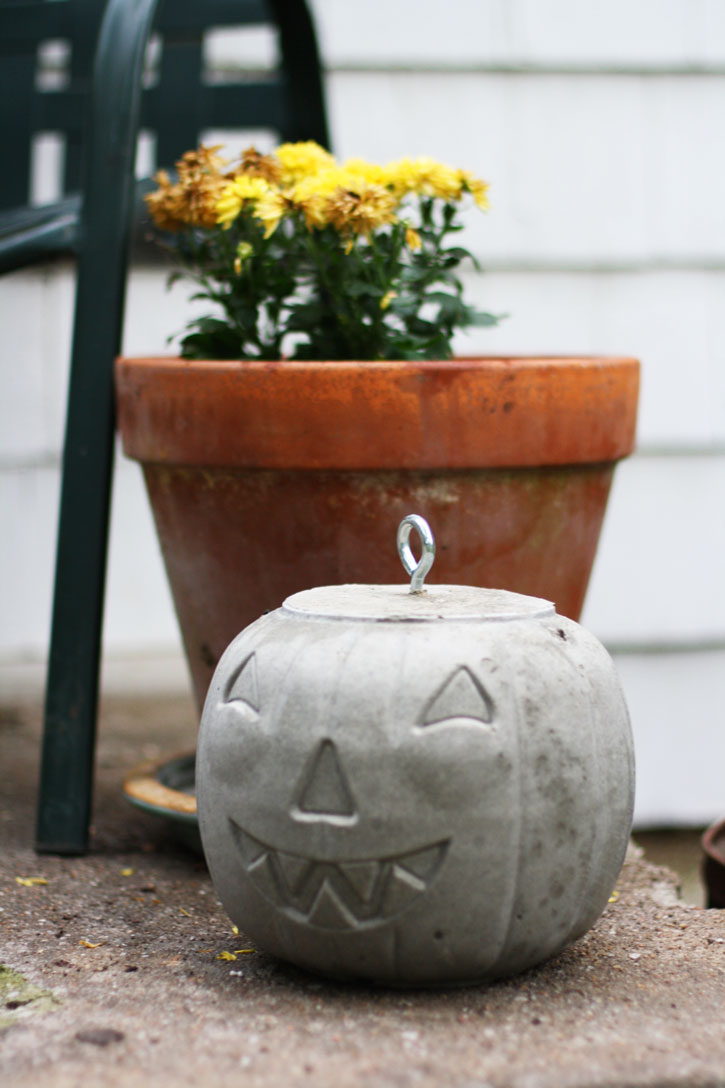 First, you'll need to gather your supplies. The base materials for this project are just plastic pumpkin buckets (I used two) and a package of fast-setting QUIKRETE® concrete mix. But, you'll need a few other tools you probably already have on hand to get the job done.
What you'll need:
– Plastic pumpkin buckets (I used two)
– 50lb bag fast-setting QUIKRETE® concrete mix
– Screw eye holders (one for each pumpkin)
– Bucket
– Stir stick
– Putty knife
Get ready to get your hands a little dirty. This project is definitely hands-on. Also, grab your significant other or a friend because it's easier to mix concrete with two people. One of you can drink a beer while the other stirs the concrete. Or, you can take turns stirring, I guess. Follow these steps to make your concrete jack-o-lanterns.
Mix your concrete
You'll need a bucket to mix the concrete and water. We eyeballed it, but QUIKRETE suggests using one gallon of water for every 50lb bag of concrete mix. Add water slowly until the mixture has the consistency of thick oatmeal. We kept adding too much water and then had to dump it out, so it would probably be better to measure it ahead of time. (Here's a handy video from QUIKRETE on how to hand mix concrete.)
Stir, stir stir
The mixture needs to be thick and it will take a bit of elbow grease to stir it until it's the right consistency. Keep stirring the concrete-water mixture until you work out most of the chunks. I used a small piece of pipe to stir the mixture, but QUIKRETE suggests using a wheelbarrow and a hoe. (We didn't have either of those, so we made the bucket-stick method work.)
Pour into molds
Once your concrete is ready, pour the mixture into your pumpkin molds. The 50lb bag of concrete I used filled two pumpkin molds just perfectly. Pour the mixture all the way to the top. It's okay if it drips over a little.
Level it off
Let the concrete sit for about 20 minutes. Then, use a putty knife to level the top of the pumpkin. When the concrete has just started to set, insert a screw eye into the mixture. The screw eye will make it easier to move your pumpkin around once it hardens because you'll have something to grab on to.
Let it dry
Don't touch your pumpkin for at least 24 hours. I waited 48 hours. It was hard, but worth it. You want to make sure the concrete has fully hardened.
Remove the mold
Unfortunately, you won't be able to keep the plastic pumpkin bucket. Use a box cutter to cut off the pumpkin bucket. Cut all the way from the top of the pumpkin to the bottom. Then, use pliers to remove the pumpkin bucket completely.
I was worried that the features—eyes, nose, ears—of the pumpkins were going to get messed up or not turn out at all. If they didn't look prominent, I was pretty much just going to be stuck with a ball of concrete. But they came out great!
I'm so excited about these concrete jack-o-lanterns. They add an unexpected Halloween elements to my front porch, without looking kooky. What do you think?
---
Related articles:
How to Make a Halloween Scarecrow
Last-Minute Halloween Decorations
Fall Decorating on the Front Porch